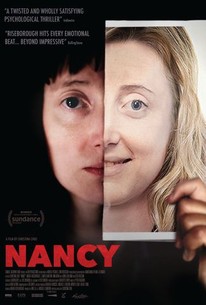 Sunday May 6, 2018
You may recall a classic 1980's Saturday Night Live recurring skit of Tommy Flanagan, the pathological liar played by Jon Lovitz. Although Lovitz's characterization of the phenomenon was quite humorous, watching Nancy had me thinking that most of us have surely encountered at least one such individual during our lifetime - but, contrarily, how disturbing and disruptive these individuals really are.
Writer/director Christina Choe's riveting inaugural feature presents a fascinating character study of a pathological liar who embarks on an ill-advised campaign of deception that quite possibly could result in devastating consequences by wreaking emotional havoc upon an innocent grieving couple.
When we meet Nancy Freeman (a chillingly effective Andrea Riseborough), an introverted 30-something, we see her caring for her ill mom (Ann Doyd) while working at temp jobs and trying to meet someone to enlighten her dreary existence. Short episodes are introduced to incredulously emphasize her tendency to "stretch" the truth no matter the circumstance.
After her mom suddenly dies, the main plot is set in motion when Nancy, now totally alone with her cat, sees a news report about a couple, Leo and Ellen (J. Smith-Cameron and Steve Buscemi, the latter effective in a normal low-key role totally against type) desperately still holding out hope of locating their daughter who was kidnapped 30 years earlier. When a computer image is shown of what the daughter possibly looks like present-day, Nancy believes the image is strikingly close to her visage (the child's photo actually belongs to Riseborough). You can hear her brain cells churning as she intently focuses on the image on the screen. She then embarks on a journey that could possibly end her loneliness while creating an instant family, if she can convince the couple she is their long-lost daughter.
Riseborough has an uncanny knack of using facial expressions to convey multiple emotions without speaking a word of dialogue. Her ability to elicit a certain empathy despite raising troubling moral questions is both a tribute to her acting and the screenplay. And it is Choe's intelligent and thoughtful script which was well deserved in winning this years Sundance Waldo Salt Screenwriting Award. The director is certainly a talent to watch.
A special mention for the music composed by Peter Raeburn (
Under The Skin; Sexy Beast)
which provides a perfect undertone to the action.
Nancy
, which I screened at the Maryland Film Festival, has a limited release scheduled for June 8.
UP NEXT: COVERAGE OF THE UPCOMING 16TH ANNUAL "AFI DOCS" DOCUMENTARY FILM FESTIVAL HELD JUNE 13-JUNE 17 IN WASHINGTON DC AND SILVER SPRING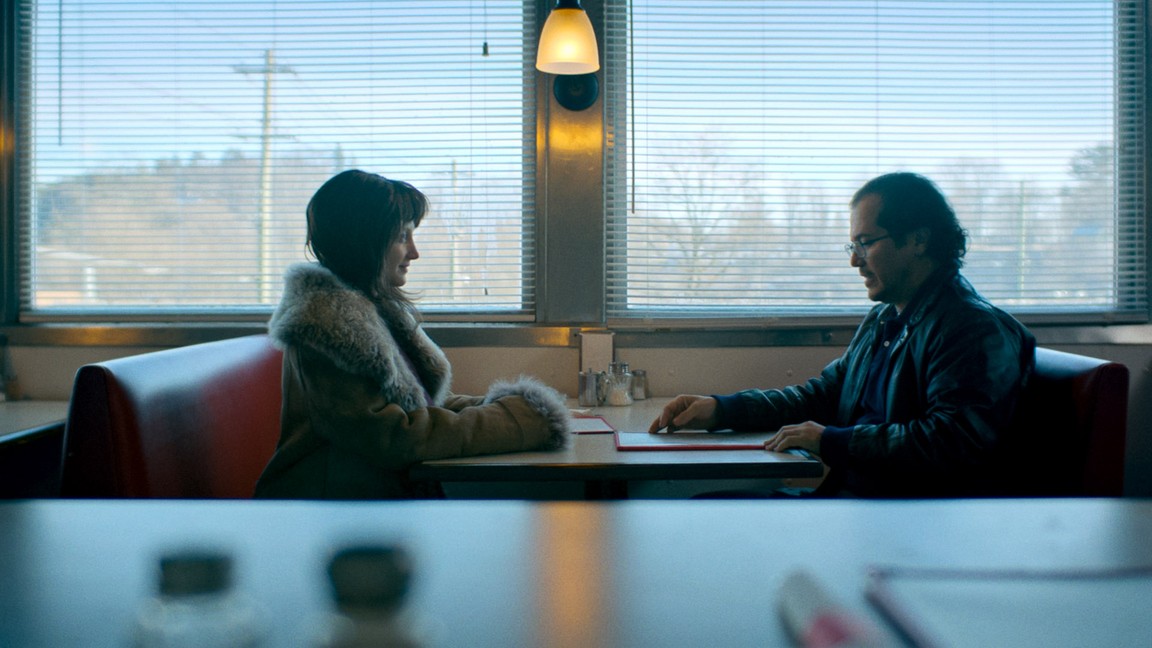 Nancy face to face with Jeb (John Leguizamo) after
meeting on the Internet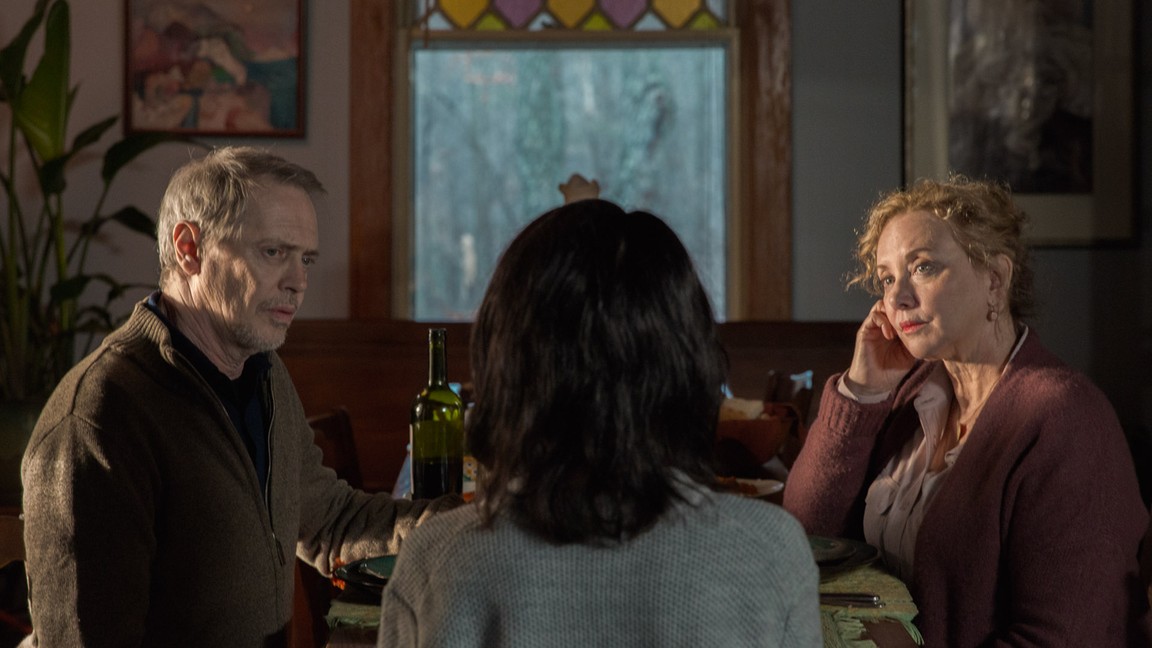 (l to r) Leo (Steve Buscemi), Nancy (Andrea Riseborough)
and Ellen (J. Smith-Cameron)
Director Christina Choe at the Q and A