It is hard to believe that ten years have passed since "My Architect" (Nathaniel Kahn's brilliant, touching film about his journey to learn about his absent biological father, noted architect Louis Kahn) walked away with the grand prize at this phenomenal film fest. The doc went on to be nominated for an Academy Award in 2004-as had many of the films screened at SILVERDOCS. Over those ten years, there have been 982 films shown-including 272 premiers. Twenty-eight have been nominated for an Academy Award. Considered to be one of the preeminent documentary festivals in the world, and the largest in the U.S., SILVERDOCS has continued to grow in stature since it's inaugural in June 2003.
After receiving 2018 submissions, this years version presented 114 films from 44 countries in five closely located venues over seven days that assuredly whetted the appetite of ardent film lovers as well as the casual film goer who wanted to view the world in glorious intimate settings.
Highlights include a fabulous opening night film,
"Don't Stop Believin': Everyman's Journey",
followed by
a lively after party at the recently opened concert venue, The Fillmore, across the street from the AFI Silver. Providing the sounds were the D.C. 80's cover band, The Reagan Years-fittingly carrying over the theme from the Opening Night film about the new front man for Journey. Those lucky enough to be outside prior to the screening could have spotted Journey lead guitarist Neil Schon and his new squeeze, the infamous White House gate crasher, Michaele Salahi on the Red Carpet. (Unfortunately, Neil had to take an unexpected flight out of D.C. and wasn't around for the Q&A and party.)
The Annual Guggenheim Award went to two very talented and richly deserving recipients: Joe Berlinger & Bruce Sinofsky whose
"Paradise Lost"
series brought national attention to the Memphis 3 murder case, and was instrumental in bringing about the eventual release of three innocent young men from an Arkansas prison after 18 years. Appearing with the filmmakers at the annual symposium was one of the "Memphis 3", Jason Baldwin, who was sixteen when he was falsely accused of participating in the murder of three Arkansas eight-year-old children in 1993.
Concluding the week was the rousing musical film
"Big Easy Express"
which documented the train excursion of three folk bands traveling from California to New Orleans with six concert stops along the way. A wonderful wrap-up to this premier film festival that never seems to disappoint!
TOP 10 AT THE 10TH SILVERSDOCS
(7) Plimpton! Starring Bill Plimpton as Himself
(10) * Don't Stop Believin': Everyman's Journey
* Tied for 10th Place
Below are reviews of the 24 films I screened as well as complete coverage of The Guggenheim Symposium honoring Joe Berlinger and Bruce Sinofsky:
------------------------------------------------------------------------------------
The Audience Feature Award winner
Monday June 25, 2012-Day 7
(The festival officially ends on Sunday but each year the award winners and festival favorites are shown the following day.)
"The Waiting Roon" (*** 1/2 - 82 minutes)
Receiving a Special U.S. Feature Jury Mention is director Peter Nicks' "The Waiting Room". Who hasn't visited a hospital ER and spent an interminable amount of time until you can go to your next destination? Nicks turns his camera on such folks holed up in the waiting room at Highland Hospital in Oakland, Ca and, without commentary, focuses on a number of patients and, at times, the staff that services them. The public hospital is the major trauma center for the greater Oakland area and provides most of the non-emergency medical care to uninsured patients in Alameda County. The numbers are staggering: serving 250,000 insured and uninsured patients, it cares for 80,000 patients annually while providing and juggling only 236 beds. The doc focuses on several patients dealing with various issues and the overworked staff that tries to satisfactorily resolve them. Shot over a two month span in 2010, the film is a microcosm of our health care system as it clearly depicts, the tireless and thankless dedication of the hospital personnel who desperately work within the system to alleviate the pain, anguish, and frustration of their patients who sometimes have to wait up to 12 hours before being seen by a physician. Simply presented, the doc is powerful and unyielding, and truly unforgettable.


C.J. , a nurse at Highland Hospital
dealing with new patients in the ER
"Fame High" (****-97 minutes)
One of the more entertaining coming-of-age movies about the arts is this gem from director Scott Hamilton Kennedy (2008's wonderful Oscar-nominated "The Garden"). The institution is the Los Angeles Country High School for the Arts (LACHSA), whose alumni include crooner Josh Grobin and pop sensation Katy Perry, and actress Jenna Elfman. Kennedy mainly focuses on four students throughout the school year: two seniors (Grace Song, a dancer and Brittany Hayes, a musician/singer) and two freshman (Zak Astor, a pianist and Ruby McCollister, an actress) - each struggling to make a mark at the prodigious school where passing the curriculum could go a long way on jump starting their careers. As if the demands of the school were not difficult enough, the students must also face constant scrutiny and/or control by their parents. For example, Zak is portrayed as a brilliant jazz protege, whose dad, an ex-boxer, seems determined that his son succeed as a possible meat ticket out of poverty. The father, whose drive seems greater than his son's, is portrayed as a manipulative parent who is constantly demanding practice and expecting perfection-while always stifling his praise of Zak's talent. Then there is Grace's conservative Korean-American parents, who show more concern for their daughter's dating habits and relationships than for Grace's aspirations as a dancer. The pressure increases when they claim their support only if Grace is accepted into the exclusive Julliard School. Meanwhile, Brittany's attendance at LACHSA puts a strain on the familial relationship when her mom leaves her family in Wisconsin to move to L.A. And Ruby, whose parents are in the business, tries to live up to their, as well as her own, expectations. We see Ruby questioning her decision to follow her dreams when she is starts to miss school and her friends when she becomes an understudy for 41 days without ever performing. A running theme throughout is how these folks must deal with grownup decisions while foregoing the life of a normal teenage. As the film progresses, you'll find yourself getting more and more emotionally involved as we experience and witness their trials, tribulations, failures, and triumphs that ultimately lead to a surprising and moving climax. A tremendous crowd-pleaser.
High school senior Grace Song performing at LACHSA
"Only The Young" (*** - 68 minutes)
Winner of The Sterling Award for Best U.S. Feature, first time feature
directors Jason Tippet and Elizabeth spent a year and a half in their hometown following three teens, slacking in depressed Santa Clarita, California. The simple narrative will harken back to our days as teens when life and decision-making seemed easy and simple. The geography in which they live is stark and depressing, however the teens make due as best they can working menial jobs and playing. Skye and Garrison are friends and possibly a little bit more, but tensions increase between the two longtime males when Kevin reveals that he and Skye shared kissed. Meanwhile, it is interesting how this event effects the camaraderie between Garrison and Kevin who handle this in a surprisingly adult manner. Filmed in reality style, we follow the three principals as they grope with their feelings about themselves and each other in a way that feels more like a narrative than a documentary. With little parental guidance, amidst their skateboarding, video-game playing, and romantic relationships, we wonder what future these young souls will ultimately encounter-now and in the future. Despite the somewhat depressing locale, the directors manage to paint an interesting visual portrait and have added an appropriate punk soundtrack to the mix. A nice first feature from two filmmakers who deserve watching.
Garrison and Kevin contemplating their future


"Trash Dance" (***1/2-67 minutes)
Winner of the Feature Audience Award is this spirited, entertaining, and inspirational account of choreographer Allison Orr's idea to bring grace and beauty to a dance routine performed by a dozen Austin, Texas sanitation workers and their equipment-including 16 trucks. Orr is artistic director of the Austin-based contemporary dance company Forklift Danceworks and is known for choreographing pieces for non-traditional performers such as dogs and their owners, firefighters, Italian waiters, and Elvis impersonators. When she decided to try her luck using employees from the Austin Departing of Solid Waste Services, she was greeted with general disdain, hearing comments like "This lady's crazy" and "How you gonna make a truck dance? Trucks don't dance!" Undeterred, she set out on a year long journey to convince some of the skeptics to go along with the program. This included eight months of on-the -job research while getting to know those workers who agreed to participate. Slowly, she, as well as the audience, come to realize that these public servants ooze tons of character, personalities, and, in some cases, untapped talents. Then, as the performance date nears, budget problems, extreme temperatures, and a torrential downpour threatens to sabotage the event. Director Andrew Garrison capably follows the process from beginning to end which helps amplify the humanity of these workers who perform an unappreciated, tireless, thankless job in order to make ends meet. The documentary also won the Audience Award at the Hotdocs Film Festival.
Choreographer Allison Orr with The Austin Sanitation workers taking their bows
------------------------------------------------------------------------
The marque announcing the appearance of Olympic weight-lifting
champion Cheryl Haworth from "Strong!"
Sunday June 24, 2012-Day 6
"Radio Unnameable" (*** 1/2-87 minutes)
Radio talk show host Bob Fass is in now in his 80's and still travels to his New York FM station WBAI studio once a week. Considered to be one of the first to develop the style known as free-form radio, this intriguing profile of Fass chronicles his early days beginning in 1963 as the late night host who also provided live in-studio music performances (a young Bob Dylan played in the studio in 1966) as well as serving as a focal point for the happenings in and outside New York City. Among his landmark achievements are the first performances of Jerry Jeff Walker's "Mr. Bojangles and Arlo Guthrie "Alice's Restaurant". But what are most interesting were his in-studio shows covering human interest events as they occurred. These included Sixties protests as well as a myriad of significant New York City happenings including "The Yip-In" at Grand Central Station which resulted in a police riot and "The Sweep-In" where listeners participated in cleaning up the Lower East Side during a garbage strike. Bob even was even instrumental in preventing a suicide. The doc becomes less absorbing when covering the most recent events in his career which include numerous firings from WBAI (including once while trying to organize a union) and his subsequent rehirings by the station. Today, the station is close to bankruptcy causing Fass to work for years as a volunteer. Directors Paul Lovelace and Jessica Wolfson obtained access to his extensive photographic and audio archives (Bob recorded all of his shows), which took them nearly five years to meticulously sift through (during the Q and A Jessica revealed that they were only able to cull through a third of the audio material) in order to paint this vivid and loving portrait of a true media pioneer who is as fascinating as his audience. The film won the Special Jury Prize for Best Documentary Film at the Saratoga Film Festival and the directors are working on a distribution deal that will have a release date late this year or early next year.
Radio host Bob Fass in the early days of his career
(l to r) Directors Jessica Wolfson and Paul Lovelace with Bob Fass
"Strong!" (***1/2-76 minutes)
It has been 40 years since the institution of Title IX, which opened the door for women to compete in competitive sports. And just in time for the summer Olympics is SILVERDOCS' World Premier of "Strong!", director Julie Wyman's inspirational take on a 5'8" 300+ lb weightlifter who just happens to be a woman. When we meet Cheryl Hayworth we learn that she hold the North American record in the clean and jerk (319 lbs.) and the snatch lift (275 lbs.) and that she earned the bronze in the 2000 Olympics. However, there is much more to this lady than lifting dead weights. After visiting a gym Cheryl began lifting weights at age 13 after visiting a gym and observing women weightlifters. By the age of 14, she had become an elite world class athlete. By 15, she became an American national champion (which she held for the next 11 years). At 17, she was competing in the 2000 Olympics in Sydney which included women weightlifting for the first time. Cheryl then suffered a severe ligament injury in 2003 while competing in the the 2003 Junior World Championships which would put her future ambitions in the sport severely in doubt. The injury also gave her pause as to what her future would be after her competition ends. Wyman explores the struggles facing Cheryl as she begins thinking about life after weightlifting. The title denotes not just Cheryl's physical attributes but also her character, intelligence, and determination as she attempts to compete in her final Olympics in 2008 in Beijing. The film will premier on the PBS "Independent Lens" series on July 26.
Weightlifter Cheryl Hayworth
(l to r) Director Julie Wyman with Olympians Cheryl Hayworth and
Cara Heads
------------------------------------------------------------------------
Saturday June 23, 2012-Day 5
AWARD WINNERS ANNOUNCED:
ONLY THE YOUNG, PLANET OF SNAIL and KINGS POINT
Receive
Festival
'
s
Prestigious
Sterling
Awards
Additional
Distinguished
Awards
Go
to
ANN RICHARDS
'
TEXAS, ¡VIVAN LAS ANTIPODAS! ESCAPE FIRE: THE FIGHT TO RESCUE AMERICAN HEALTHCARE
Competitive
Whole
Foods/Silverdocs
Green
Grants
Go
to
SEED and CAN
'
T STOP THE WATER
TRASH DANCE and SPARKLE
Win
Audience Awards for Best Feature and Short .
This
year
'
s
Sterling
Award
for
Best
U.S.
Feature
went
to
ONLY THE YOUNG
directed
by
Jason Tippet
and Elizabeth Mims
.
The film follows three teens s
tuck in a chaste love triangle in a depressed Southern California suburb, and explores different paths to maturity, independence and romance, portrayed with cinematic tenderness, unexpected beauty and nascent wisdom in a foreclosed wasteland.
The
prize
is
accompanied
by
a
$5,000
cash
award.
The
Sterling
U.S.
Feature
Jury
noted:
"We loved this film for its striking and beautiful cinematography and its innovative editing. But above all, we loved it for its sensitive and startlingly honest portrayal of adolescence. Neither saccharine nor snarky, the film captures the depth and absurdity of being a teenager without cliché or caricature."
This
year
'
s
Sterling
Award
for
Best
World
Feature
went
to
PLANET OF SNAIL directed bySeungiun Yi.
The poetry of the cinema merges fantastically with the poetry of touch, taste and smell when the filmmaker encounters the deaf and blind South Korean poet Young-Chan, who is unwilling to accept as limitations the world of sight and sound from which he is isolated
.
The
prize
is
accompanied
by
a
$5,000
cash
award.
The
Sterling
Award
World
Jury
noted:
"
This film immersed us into the sensorial experience of love unbound. The poetic cinematography of life's seemingly ordinary moments underscores the complexity of life itself. Seungiun Yi's PLANET OF SNAIL is a tranquil meditation on the resilience of the human spirit.
"
The
Sterling
Award
for
Best
Short
Film
was
given
to
KINGS POINT
directed
by
Sari Gilman.
Inhabited by numerous transplants from New York who were lured by the promise of sunshine and palm trees, Kings Point is a place where retirees have begun a new part of their lives, for some the final chapter.
The
prize
is
accompanied
by
a
$2,500
cash
award.
The
Sterling
Award
Short
Jury
noted:
"
For its bittersweet exploration of the universal needs and challenges of creating human connections - even within a seemingly close-knit community of peers - the jury recognizes KINGS POINT by Sari Gilman with the Sterling Award for Best Short.
" 


Notable Special Jury Mentions:
A
Special
U.S. Feature
Jury
Mention
went
to
THE WAITING ROOM
directed by Peter Nicks.
The complexity of the nation's public health care system is etched in intimate detail in this poignant vérité portrait of an American public hospital and the community of patients and caregivers that intersect with it. The ER waiting room in Oakland's Highland Hospital serves as the backdrop to an encounter with a diverse community of largely uninsured patients alongside an indefatigable staff charged with caring for them.
The
Jury
noted:
"The best documentaries immerse us in new worlds and connect us with people we've never met. This
vérité
film gives us a personal experience with patients and caregivers trying to navigate a complicated and flawed healthcare system. For a film that uses powerful and intimate moments to persuade, we are honored to give a Special Jury Mention to THE WAITING ROOM."
A
Special
World Feature
Jury
Mention
went to
SPECIAL FLIGHT (VOL SPECIAL)
directed byFernand Melgar.
Who gets two years incarceration for a traffic violation? Undocumented immigrants! Even in tolerant Switzerland, the benign administration and guards of the Frambois detention center near Geneva can do little to alleviate the fate of those entrapped in its system.
The
Jury
noted:
"
This film patiently portrays what life looks and feels like inside the walls of injustice where a group of detained immigrants and their sympathetic caretakers are bound together by a complex web of inequality. Through his powerful
vérité
filmmaking and access, Fernand Melgar lays bare a life without freedom. SPECIAL FLIGHT (VOL SPECIAL) is a sometimes uncomfortable, always honest remark on society's divided attitude towards migrants.
"
A Sterling Short
Honorable
Mention
went
to
MONDAYS AT RACINE
,
directed
by
Cynthia Wade
.
In the film,
sisters Cynthia and Rachel, who watched their mother suffer the indignities and pain of struggling with cancer when they were younger, now own a beauty salon in Islip, Long Island. They open their doors every third Monday of the month to women living with cancer. With great compassion and support, the women undergoing treatment face their fears together and rediscover their beauty in a whole new way.
The
Jury
noted:
"
For its ability to engage the viewer on a raw, emotional level through the moving testimony of two indelible characters facing illness, the jury recognizes MONDAYS AT RACINE by Cynthia Wade with an Honorable Mention.
"
A second Sterling Short Honorable Mention went to PARADISE by Nadav Kurtz. Three immigrant workers from Mexico make their living in a most unusual way: by rappelling down some of Chicago's tallest skyscrapers to clean windows. PARADISE gives a hair-raising view of this precarious profession and the men who risk life and limb to do it.
The
Jury
noted:
"
For taking the audience to new heights in experiencing a unique perspective on immigrant labor through beautifully-lensed and adventurous cinematography, the jury recognizes PARADISE by Nadav Kurtz with an Honorable Mention.
"
The
Sterling
Award
winners
were
chosen
by
an
eminent
Festival
jury, including:
Sterling
U.S.
Feature
Jury
:
Heather
Courtney
,
Filmmaker
(WHERE
SOLDIERS
COME
FROM);
Marshall
Curry
,
Filmmaker
(IF
A
TREE
FALLS:
A
STORY
OF
THE
EARTH
LIBERATION
FRONT);
Adella
Ladjevardi
,
Grants
Manager,
Cinereach.
Sterling
World
Feature
Jury
:
Charlotte
Cook
,
Director
of
Programing,
Hot
Docs;
Jigar
Mehta
,
Filmmaker
(18
DAYS
IN
EGYPT)
and
Journalist;
Stephanie
Wang-Breal
,
Filmmaker
(WO
AI
NI
MOMMY).
Sterling
Short
Film
Jury
:
Lisa
Collins
,
Filmmaker,
(OSCAR'S
COMEBACK,
TREE
SHADE);
Cara
Cusumano
,
Programmer,
Tribeca
Film
Festival;
Basil
Tsiokos
,
Film
Consultant
and
Programming
Associate,
Sundance
Film
Festival.
The
WGA
Documentary
Screenplay
Award
went
to
ANN RICHARDS
'
TEXAS
written
by
Keith Patterson.
In a state known for outsized political personalities, a silver-haired lady from Austin became one of the biggest and boldest by speaking her mind and sticking to her guns. The high-energy ANN RICHARDS' TEXAS celebrates her rise in the Democratic Party, her improbable turn as governor and her legacy as a feisty liberal icon
.
The
Prize
is
accompanied
by
a
$1,000
cash
award
and
a
five-year
membership
in
the
WGAE
Nonfiction
Writers
Caucus.

The
films ESCAPE FIRE: THE FIGHT TO RESCUE AMERICAN HEALTHCARE directed byMatthew Heineman and Susan Froemke and THE HOUSE I LIVE IN directed by Eugene Jareckiwon the inaugural React to Film Social Issue Awards at this year's Silverdocs,
which is given to two well-crafted and compelling documentaries on a critical social issue that has the greatest potential, through the medium of film, to have an impact on that issue through reaching the broadest audience, particularly young people. In ESCAPE FIRE, the filmmakers examine the nuts and bolts of the current battle raging over a healthcare system that is desperately broken. Drawing from harrowing personal stories and the ongoing efforts of those trying to make a positive difference, this hard-hitting film focuses on finding workable solutions. In THE HOUSE I LIVE IN, filmmaker Eugene Jarecki (WHY WE FIGHT) offers a sobering comprehensive view of contemporary drug culture and examines the troubling realities of a broken system whose very existence, he argues, is making the problem worse rather than better.
The
Cinematic
Vision
Award
went
to
¡VIVAN LAS ANTIPODAS!
directed by Victor Kossakovsky
.
The filmmaker
reveals the sheer kinetic and visual splendor of the corners of our planet when he explores four pairs of dry-land antipodes: Argentina and China, Russia and Chile, Hawaii and Botswana, and Spain and New Zealand. In the end, it is not the differences, but the uncanny similarities that are most striking
.
The
prize
comes
with
$4,000
in-kind
services
from
the
Alpha
Cine
Labs
in
Seattle.
The
Whole
Foods
/
Silverdocs
Green
Grant
went
to
SEED
directed by Taggart Siegel for a project in development. SEED investigates the untold story of seeds, the basis of life on earth. As many irreplaceable seeds are nearing extinction, the film follows heroes working tirelessly to preserve agricultural security and seed diversity in an uphill battle against high-tech industrial seed companies and an impending global food crisis.
The
Whole
Foods
/
Silverdocs
Green
Grant
for completion of a project went to
CAN'T STOP THE WATER
directed by Rebecca and Jason Ferris. The film tells the story of Isle de Jean Charles, Louisiana, and the Native American community that are fighting to save their culture as their land washes away.
The
prize
is
accompanied
by
a
$25,000
cash
grant
to
each
filmmaker
for
a
total
of
$50,000.
The
Audience
Award
for
Best
Feature
went to TRASH DANCE directed by Andrew Garrison. The film documents the creation of a beautiful dance piece inspired by the work of often-unnoticed public servants – sanitation workers. The Audience Award for Best Shot went to SPARKLE directed by Steven Bognar and Julia Reichert. The film chronicles Sheri
"
Sparkle
"
Williams, a star dancer with a 40-year track record with the Dayton Contemporary Dance Company as she returns to the stage at 49.
"Beauty Is Embarrassing" (***-89 minutes)
Director Neil Berkely creates a lively profile of artist Wayne White who received his big break creating visual work on the set of 1980's "Pee Wee Playhouse", and is currently successful with word paintings where he humorously places words across existing landscape paintings. The artist has perform in multiple artistic disciplines throughout his career. Besides painting he is equally adept at animation and puppetry, (craftsman and performer) as well as banjo picking. He even created the visual design for successful music videos from Smashing Pumpkins ("Tonight, Tonight") and Peter Gabriel ("Big Time"). However, his success on the wildly successful "Peewee's Playhouse", for which the artist won three Emmy Awards, is deservedly given much screen time. Berkely goes to great lengths to include White's humorous take on the stuffy art world with his creations-which he conveys through his work as a pop artist and also through his seminars, which are inter-cut throughout the doc. However, the success of the documentary for audiences will depend on one's connection with the artist's off-the-wall, oftentimes, blue humor. My biggest problem: despite the frantic editing, there was a tendency of the filmmaker to scatter his ideas without a lack of focus, which might cause the viewer to zone out for a while. However, White is an interesting character and his life-story is worth exploring. The film is due to open on a limited release beginning September 7.
Artist Wayne White
(l to r) Artist Wayne White and Director Neil Berkeley
CLOSING NIGHT FILM:
"Big Easy Express" (*** 1/2-67 minutes)
Director Emmett Malloy has created an unusual kind of concert film which is reminiscent of the phenomenal 2003 documentary "Festival Express" which documented a 1970 train excursion through Canada featuring the top pop musicians of the day including Janice Joplin, The Grateful Dead, and The Band. This time around, three talented folk/roots bands (Mumford and Sons from England , Edward Sharpe and the Magnetic Zeros from LA, and Old Crow Medicine Show from Nashville) travel eight days from California to New Orleans entertaining inside the vintage train cars and outside at six separate concert stops along the way. And the film's timing couldn't have been more appropriate with the recent passing of the great Earl Scruggs and Doc Watson, as this is a wonderful way to keep their genre in the public's psyche. This rousing documentary will have you tapping your feet while experiencing the joyous energy emanating from the screen. Malloy wonderfully photographs the American Southwest scenery along the way (which is almost worth the price of admission), and has expertly recorded the music and the groups' dynamics, which will assuredly leave you smiling by the end of its too swift 67 minutes. The film won the Headliner Audience Award at SXSW and, on June 26, became the first feature film to be distributed globally in 50 countries for sale and rental on iTunes before a theatrical release. On July 24 the DVD will be available ahead of multiple subscription VOD outlets before it makes its way to conventional TV sometime in early 2013.
The three bands play before a packed house in New Orleans
(l to r) Producers Bryan Ling and Mike Luba. and moderator Bob
Boilen, creator and host of NPR's All Songs Considered
------------------------------------------------------------------------
Friday June 22, 2012-Day 4
"Meet the Fokkens" (***-76 minutes)
As I was watching this fascinating, light-hearted Dutch profile by directors Rob Schroder and Gabrielle Provaas, an expression came to mind that my mother used to tell me: For every yard of cloth, there's a buyer. Martine and Louise Fokkens are currently two elderly twin sisters living in Amsterdam, where both have been working in the prostitution industry in the infamous red light district for over 50 years. Louis retired 2 years ago (exclaiming that, because of arthritis, she "couldn't get one leg over the other") while Martine, financially strapped, is still turning tricks as her only means of income. A sweet charming unflinching look into their lives both past and present, the film is far from sensational, despite an occasional sprinkling of raw sex scenes that will have you giggling more than being titillated. Mainly you will be observing the interactions the sisters have with their friends, acquaintances and each other while postulating how much the industry has changed over the years when they first started plying their trade as young, blonde, and beautiful prostitutes. And we will see them painting in their spare time - and partying it up at a gallery exhibition of their work. Mainly, though, the sisters discuss their trade, and the clientele they have serviced over the years – including a humorous past encounter with a chaplain (and even a rabbi) when the session also became a confessional. I would have liked a deeper insight into their past to put their lives and livelihood into a more complete perspective, but, as is, this engaging doc, complete with wonderful cinematography and score, will make you glad you spent those 76 minutes meeting the Fokkens. The film is due to open in New York on August 8.
The Fokkens twins in their younger days
"The Ambassador" (*** 1/2-94 minutes)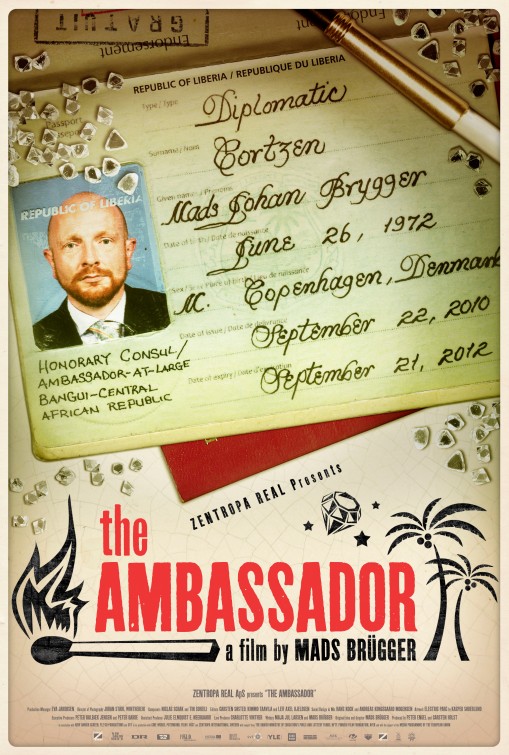 Danish director Mads Brugger goes undercover to reveal how easy it is to become a Third World diplomat-as long as you have enough cash and are willing to risk your life in the process. Satirical and wildly improbable, "The Ambassador" is a different kind of documentary that is often humorous in its execution as the filmmaker takes us into this seedy milieu that illustrates widespread political corruption and the incredible risks these folks take while attempting to smuggle "blood diamonds" out of The Central African Republic. After making the initial deal outside of Africa (with folks who may ultimately be conning him) Brugger arrives in Liberia and proceeds to attempt to establish a match factory as a front for his operation. However, what he ultimately needs is diplomatic status before he can safely get the diamonds out of the country without being caught. We soon learn that the possession of these resources are also attractive to France and China and aren't merely for the personal use of those folks willing to buy their way into an ambassadorship. The irony and humor never lets up-especially when he is told his must have two Pygmies as part of his match factory staff. However, his cover is ultimately in danger when he realizes the diplomatic status he is desperately seeking may not being delivered as promised. Armed with a hidden camera, it is a total hoot how masterfully Brugger, whose style is a cross between Michael Moore and Sasha Byron Cohen, conducts his undercover persona throughout - which had me thinking that this film could have been a mockumentary that only Christopher Guest ("Spinal Tap") could have concocted - if it wasn't all true. The film will have a limited U.S. release on August 29.
Director Mads Brugger recruiting Pygmies for his bogus match factory staff
"The Queen of Versailles" (*** 1/2-100 minutes)
"The Queen of Versailles" ultimately raises an interesting question: Is it possible to feel empathy for a filthy rich couple and their eight kids when their plan to build the largest house/castle/palace in the U.S., excuse the expression, falls through the roof when the economy went south in 2008? For some viewers, yes; for this viewer, no. In fact, I found my disgust/contempt level rising by the minute as I witnessed the profuse opulence of this family. Director Laura Greenfield initially only wanted to photograph the couple as part of a long-term project on wealth and the American Dream. However, when she found out about their real estate project, they gave their full blessings to document the construction of the 90,000 square foot behemoth, patterned after the Palace of Versailles. As luck would have it, she ended up with a story much more compelling. We meet David, his wife Jacqueline and their eight children in the late 2000's as they are in the midst of the construction. When the riches accumulated by 74-year-old time share mogul David Siegel stated disappearing as fast as the Dow average was dropping, lack of funds caused the project to be suspended and forced them to put the incomplete "house" on the market. Jacqueline, 39 years younger than David, realized they she soon might include Walmart on her shopping trips after the 2008 economic meltdown had the family rethinking their exorbitant lifestyle in a big way. Winner of the Sundance U.S. Directing Award, director Lauren Greenfield wonderfully photographs the extreme ups and downs in the lives of the Siegels and provides a curious fascinating inside look into the lives of the extremely rich and famous. And no matter how you feel about The Siegels, you will find it hard to look away from the screen. The film begins it limited release on July 20.
The Siegels
Director Laura Greenfield
"The Source" (****-105 minutes)
Ever wonder what it would be like to be a part of one of the spiritual psychedelic cults that took form in the late 60's and early 70's without actually joining? Directors Jodi Wille and Maria Demopoulos' incredible documentary will give you that chance as they chronicle the "family" founded by jujitsu expert, stuntman, and accused murderer Jim Baker, aka Father Yod, aka YaHoWha. To help bring in the funds, the group (which ultimately grew to over 140 followers) worked in Baker's vegetarian restaurant "The Source", which was frequented by L.A. celebrities and even served as a setting for a scene in "Annie Hall". The directors obtained extensive and amazing archival footage, meticulously maintained for years by ex-cult member Isis Aquarian, and recent interviews with many key followers of Father Yod. This fascinating peek into the inner workings of the "family" includes questionable moralistic practices such as the marrying of underage females (making it harder for their families to reclaim them), refusing medical attention for sick children, and Baker's eventual polygamous activity by taking 13 wives-the latter of which directly violated his initial "10 Commandments" and emotionally devastated his first wife. Members of the group created about 65 music albums during its existence, which is liberally sprinkled throughout the soundtrack that hauntingly accompanies the amazing visuals. Not to be missed-especially by anyone who has a fascination with the sociology and psychology of these groups.


The Source restaurant in L.A.
(l to r) Ex-source members Explosion The Aquarian and Isis Aquarian with Directors
Maria Demopoulos and Jodi Wille
------------------------------------------------------------------------
Thursday June 20, 2012-Day 3
"Special Flight (Vol Special)" (**** - 103 minutes)
In the cinema verite style reminiscent of the techniques utilized by great documentarians such as the Maysles Brothers and D.A. Pennebaker, Fernand Melgar has carefully documented a group of some 25 illegal Swiss immigrants from Africa and Easter Europe holed up in the Frambois detention center near Geneva as they await their fate. Many of these individuals have been living in Switzerland for over 10 years-paying taxes and raising families. After being found out oftentimes in the most mundane manner (getting stopped for a traffic violation, for example), they must await the decision of the slow moving administration-which could take up to two years. Being away from their family is only part of their ordeal as many of them know that returning to their "homes" could be certain death in the existing politically volatile climate from which they escaped. Like a reality show from hell, Melgar follows these poor souls for months and allows us to personally connect with their plight. Quietly powerful in its simplistic presentation (there is virtually no musical soundtrack), we get to feel their horror and helplessness-all the while questioning how this could happen in a supposedly democratic country. "Special Flight" won the Full Frame Grand Jury Award and the Center for Documentary Studies Filmmaker Award. Truly unforgettable.
Several of the unfortunate Swiss illegal immigrants awaiting
their fate in Geneva's Frambois Prison
"Seeking Asian Female" (*** - 84 minutes)
American born Asian filmmaker Debbie Lum always wondered about "Yellow Fever"-the term applied to the particular attraction white men have for Asian women. She set out to explore this social phenomenon-but found her film going in a different director after she met twice divorced 60ish Steven. Steven allowed Debbie full access to his life, and when she realized he was a character straight out of a fiction novel (Lum admitted he kind of creeped her out at first meeting), she began filming his repeated attempts to meet foreign Asian women over the Internet. He strikes gold with 30-year-old Zhang Jian-hua (AKA "Sandy"), a Chinese national. When he travels to China to meet her, she agrees to move to San Francisco after obtaining a three month engagement visa. The main problem: language. That put the filmmaker in a awkward situation as their principle translator-including being their mediator and counselor during their arguments. The initial humor is eventually replaced with pathos as we begin wondering where this unconventional relationship is headed. Although many documentary purists will balk at the idea of the filmmaker putting oneself smack in the middle of the story (did she ultimately affect the relationship after being thrust into the action?), the story does become a fascinating sociological statement on the quest for humans to connect-no matter the obstacles and the odds. "Seeking Asian Female", which had its East Coast Premier at SILVERDOCS, will air on PBS' Independent Lens series sometime in 2013.
A scene from "Seeking Asian Female"
(l to r) Director/Producer/Writer Debbie Lum,
and Co-Writer/Co-Editor/Co-Producer Tina Nguyen
"We Are Legion: The Story of the Hacktivists" (***1/2 - 94 minutes)
Straight out of today's headlines, director Brian Knappenberger delves in the history of the "hactivists"-better known as "Anonymous"-the current Internet savvy activists around the world who are trying to fight social, economic and political injustices by working mainly through their keyboards. Starting as geeky Internet pranksters on the anything goes 4Chan site in 2003, they have evolved into a force to be reckoned with-creating all of the major rebellion and hacking incidents the past several years including their attack on Tom Cruise and the Scientology site, their actions against MasterCard and PayPal during the WikiLeaks scandal, and their shutting down of Sony's PlayStation Network. They were even instrumental in the 2011 Egyptian revolution when they connected with the Egyptian masses after their government shut down the Internet. However, it is not all fun and games as a portion of the doc serves as a cautionary tale recounting what happened to a couple of unfortunate Anonymous members including 20-year-old Mercedes Haefer. She was taken from her home in 2011 by the FBI as one those responsible in the PayPal hacking and cited for conspiracy and consent with hackers to "commit Intentional Damage to a Protected Computer". As was pointed out, time for a cyber crime conviction can last longer than for convicted pedophiles. However, for the most part, the film is light and sprinkled with humor throughout. And, you don't have to be a computer geek to be thoroughly entertained and informed by the rapid fire information being thrown at you on the screen. Not to be confused with hackers stealing passwords and such from corporate computer files, Anonymous is the Boston Tea Party of the computer age-but much more far-reaching. I would have liked a few opposing viewpoints, especially from those who consider the group's activities to be "illegal", in order to liven up the debate. However, Knappenberger's agenda being clearly on the side of the group that, as one participant proclaimed, are scarring "the shit out of the powers-that-be". Fabulous interviews with actual Anonymous members (some hidden behind their signature Guy Fawkes masks in order to keep them, well, anonymous), frantic editing by Andy Robertson, and an effective non-stop soundtrack by John Dragonetti will keep you fascinated in this important story of our times; that is-unless you are a Scientologist.
A scene from "We Are Legion: The Story of the Hacktivists"
is
Director Brian Knappenberger
"Plimpton! Starring George Plimpton as Himself" (****-88 minutes)
Most people remember George Plimpton as the participatory Sports Illustrated journalist who often put himself in incredibly perilous and, at times, bizarre situations, and then writing about them from the point of view of the everyman. His famous stint in 1963 as the Detroit Lion "last string" quarterback led to his best-selling book "Paper Lion". However, what most people don't know: his fascinating history from growing up in a prominent New England family (with a glowing heritage dating back to The Mayflower), his expulsion from an exclusive private school, his co-founding of the Paris Review, his relationship with Ernest Hemingway and the other prominent authors and celebrities of his time, his close relationship with Bobby Kennedy (he was practically standing next to the slain Senator when he was assassinated in 1968, while helping to physically subdue Sirhan Sirhan), as well as the myriad awards he received as a result of the multitude of literary works he created before his death in 2003 at the age of 76. First-time directors Tom Beane and Luke Poling have made a loving tribute that is enthralling from start to finish. Their use of incredible never-before-seen archival footage and fascinating interviews help propel those 88 minutes which never bore. This is the kind of film one rarely sees from first-time directors. The doc had its World Premier at SILVERDOCS and is currently seeking distrubution.
George Plimpton in Detroit at the 40th anniversary
of the publication of "Paper Lion". He passed
away a few days later.
(l to r) Directors Luke Poling and Tom Beane
------------------------------------------------------------------------
Wednesday June 20, 2012-Day 2
"Chasing Ice" (****-72 minutes)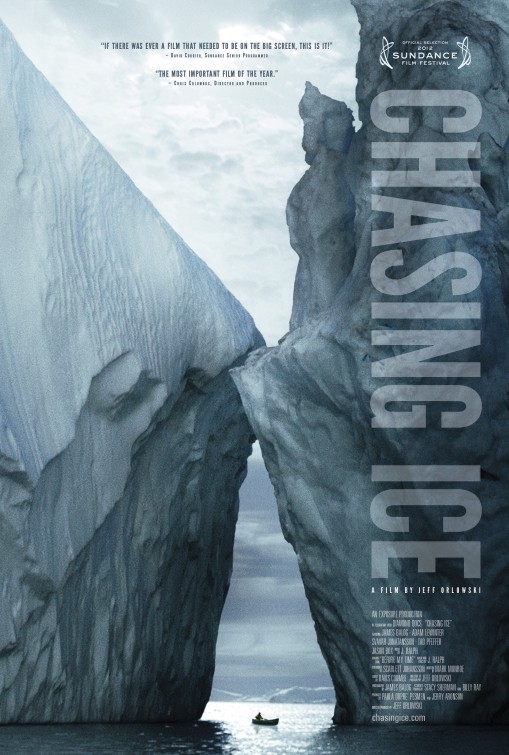 Global warming/climate change has been (excuse the pun) a hot issue ever since 2006's "Inconvenient Truth" brought it to the forefront of the national psyche. Scientists have been debating the validity that man is perilously affecting the planet to such a degree that the fate of millions of folks living next to the ocean will be determined by the rising waters due to melting glaciers. Is this a fact or is it nearly a natural phenomenon that occurs over the course of time? First time director Jeff Orlowski began in 2007 to follow nature photographer James Balog and his Extreme Ice Survey, the most comprehensive and authoritative photographic glacier study ever undertaken. The EIS hopes to document the glacier melting phenomena in order to prove once and for all that the threat to our planet is more than nature at work. The director doubles as cinematographer as he meticulously follows Balog for three years to frigid locales in Greenland, Iceland and Alaska, as Balog sets up stationary cameras hoping to record visual proof of the extent of the retreating glaciers. Meanwhile, early camera failures and Balog's subsequent knee injuries and surgeries threaten to curtail the project. Winner at this year's Sundance Excellence in Cinematography award, the film is stunningly beautiful, while at the same time, horrifying, as it details for the first time the consequences of the images we are witnessing. The doc is due to be released in theaters in the fall and is a must-see on the big screen.
James Balog setting up one of his stationary cameras to record the retreating glaciers
Director Jeff Orlowski
"The World Before Her" (***-90 minutes)
Director Nisha Pahuja's "The World Before Her" details the dichotomy of women existing in current day India. On the one hand, there is the Old India represented by the right-wing camps established by Durga Vahini on behalf of the largest Hindu nationalist group (referred to as the "Hindu Taliban") who are trying to preserve the subservient dogma while also providing military training to the participants. They oppose the Westernization of beauty pageants and consider them immoral. On the other hand, the New India is represented by their annual Miss India beauty pageant where the director follows a group of 20 participants in general, and a couple in particular, as they are preparing for the big night. Pahuj, who gained unprecedented first access to the Hindu camp, jarringly jumps back and forth to emphasize both groups' struggle for equality, and the choices they must make in a country dominated by men and traditions. Thankfully, the filmmaker makes no political or social judgment-leaving that up to the viewer as one watches the extreme contrasting images and ideologies on the screen. However, the constant weaving back and forth from one Indian world to the other ultimately had my head spinning as one moment we see beautiful women strutting their stuff on a pageant runway, and the next moment we observe fundamentalist women being taught to fire weapons. It is easy to see why there were passionate protests by fundamentalists in India when the Miss World pageant was held there in 1996. However, even though Pahuja provides no clarity on which side's doctrines were prevailing (which had me eventually tuning out), this is an interesting view of the challenges women face in today's India. The film, which won the Best Canadian Feature award at Hotdocs and the Best Documentary Award at the Tribeca Film Festival, has a scheduled September 28 release date.
Contestants in the Miss India pagaent
Producer Cornelia Principe
"The House I Live In" (****-105 minutes)
Co-winner of the inaugural React to Film Social Issues Award is director Eugene Jarecki's (2006's "Why We Fight") expose on the U.S. "War on Drugs"-the term first coined by the Nixon Administration in the early 70's. The fact that we are losing that war is not a revelation. What is a revelation is the reason why that war will probably never be won. Jareki has superbly documented the affects this "war" has had in our country, costing $1 trillion over the 40 years of its existence. And the eye-opening comparison this "war" has to pre-Germany holocaust conditions is just one of the many theories that are thoughtfully presented. The director began the project by investigating the effect that drugs had on his long-time housekeeper's family after her son became the victim of drugs. Over the course of three years, the director's personal story took on a much broader meaning that will have you questioning the deeper motives of our government: Was this really a war on drugs or a war on the lower class? And is the government really trying to help drug users in the long run? Among the eye-opening interviews sprinkled throughout the doc are pointed comments by producer/writer David Simon ("The Wire") who time after time puts all of the ideas in horrifying perspective. Winner of the documentary grand prize at Sundance, the film is being released theatrically later this year and will assuredly be in consideration for an Academy Award.
One of the victims of the War on Drugs
Director Eugene Jaracki
"China Heavyweight" (***-89 minutes)
I
n 1959 Chairman Mao banned the Western sport of boxing in China. After the cultural revolution, the ban was lifted in the late 80's, and the sport is now routinely included as part of their standard curriculum. Director Yung Chang (2007's award winning "Up the Yangtze") has focused his camera on the country's first professional boxer, Qi Moxiang, who is currently a coach in a middle school, and two male students (females are also included in curriculum). One, Yunfei Miao, someday aspires to have a career like one his idols, which include Mohammed Ali and Mike Tyson. What becomes clear is that failure to succeed could mean a life of drudgery in the tobacco fields instead of obtaining glory in the ring. Filming from 2009-2011, Chang provides little narrative while following the principals as they hon their craft in pursuit of their dreams. The subjects are also followed outside the ring to focus on their home life and relationship with their family. I had wished that the director had taken more care in filming the fight scenes and the training shots tends to be repetitive. Also, in the end, I had wished to have been more emotionally involved. However, Chang provides an interesting, albeit uneven, look into a sport that only recently was allowed to exist in a country that once
had total disdain for Western values. The film will begin a platform release beginning July 6 in New York (it opened in Silver Spring on July 18).
Students learning boxing skills at at a middle school in Sichuan province
Producer Daniel Cross
------------------------------------------------------------------------
Tuesday June 19, 2012-Day 1
"The Imposter" (****-95 minutes)
In 1994 San Antonio, Texas,13-year-old Nicholas Barclay disappeared. Three years later, Spanish authorities in Linares, Spain were contacted by a person who later claimed to be Nicholas. Nicholas' sister then travels to Spain and, after she confirms this person as her brother (despite the fact that her sibling had blond hair and blue eyes, while this individual had dark skin and hair - and spoke with a French accent) amazingly he is issued a passport. However, the family wasn't the only ones deceived. Incredibly, so were Child Protection Services, the U.S. Embassy in Madrid, the U.S. news media, and the FBI. The Barclays totally accepted this dude into their family for five months before a suspicious local detective diligently sets out to uncover the ruse. What followed was a series of events that took the Texas family on a virtual roller coaster ride that would eventually make national headlines. As if this story line wasn't enough, a theory is floated that the family accepted the imposter into their family as a means of covering up Nicholas' murder by a now-deceased junky half-brother. Director Bart Layton gets to interview the imposter himself and using reenactments and interviewing techniques reminiscent of the great Errol Morris, as well as a top-notch score by Ann Nikitin, he tells a riveting story that must truly be seen to be believed. The Arts and Entertainment-backed film, which won the Grand Jury prize at the Miami Film Festival and the Filmmaker Award at Hotdocs, began a limited release on July 13.
Reenactment scene of when the imposter is found by the Spanish police
Producer Dimitri Doganis
"Time Zero: The Last Year of Polaroid Film" (*** 1/2-95 minutes)
Director Greg Hamilton has carefully documented the history and apparent demise of the photographic format created by Dr. Edwin Land in 1948 that everyone took for granted; that is until the Polaroid Corporation announced in 2008 that it no longer would produce the instant film that has been such a mainstay in our culture for decades. A technological marvel, the instant camera was more than a gimmick to millions on the planet that used it-even with the growing proliferation of digital cameras. The filmmaker interviews scores of folks who drive home the point that snapping the photo, then immediately watching it develop on a piece of paper to pass around, was more exciting, satisfying and magical than storing it on a digital file. Even professional photographers and artists used and depended on the format for their projects. After the announcement came the creation of a group headed by Dr. Florian Kaps, Andre Bosman, and Marwan Saba who were determined to put the production back in process by recruiting ex-Polaroid employees and leasing Polaroid buildings and equipment. However, that process was so daunting that the group named itself "The Impossible Project". The second half of the doc is the most intriguing, as it focuses on the challenges and the difficult process these folks undertook to successfully reintroduce the instant film to the world. Interviews include prominent photographers and even filmmaker John Waters, who for years has painstakingly taken a Polaroid snapshot of everyone who visits him. Nicely edited and photographed including a standout original score by Jimmy Thompson, this film is a loving plea for the retention of the photographic format that could be a victim of the digital age.
A scene from "Time Zero: The Last Year of Polaroid Film"
Co-producer Sara Hamilton
The annual Guggenheim Symposium honoring Joe Berlinger and Bruce Sinofsky
The award is "named for the four-time Academy Award winning filmmaker Charles Guggenheim" while "the Symposium honors a filmmaker whose work captures current events, frames history and inspires audiences". The recipients this year have created such brilliant diverse works such as 1992's "Brother's Keeper", "Metallica-Some Kind of Monster" (2003), and the 2011 Oscar nominated "Paradise Lost3: Purgatory", the third installment in their series involving the West Memphis 3. The HBO produced series eventually led to the freeing of three teens who were falsely imprisoned for the 1993 gruesome deaths of three West Memphis, Arkansas pre-teens. Appearing with the filmmakers at the symposium was Jason Baldwin one of the three released from prison last August 19th after 18 years. The audience was first treated to a wonderfully edited 29 minute retrospective of the filmmakers' work followed by an informative panel discussion with the two documentarians moderated by Eugene Hernandez of the Film Society of Lincoln Center.
Before he introduced the retrospective, Jason addressed the audience and movingly stated: "Unbeknownst to me, Bruce and Joe made me a promise, they made Damian a promise, they made Jesse a promise, they made (the parents of the three murdered children) a promise, they made the city of West Memphis and everyone in this room a promise; and that was the promise never to stop filming until Damian, Jesse, and myself were free. And within that promise carried other unsaid promises . . . like you look out and you see the things that are horrible happening in this country and you just got to stand up and do something about it. That was an unsaid promise and one that they carried out by action. Today I stand here in front of all of you-not for what the system was able to do for me but for what two men were able to capture and then set in each and every one of our hearts; and that is the idea that we can help each other. Help each other get out of bad situations and then open our eyes so when it is bad people can see it. I thank them and I love them and I owe them my entire life."
During the panel discussion following the retrospective, Joe said making documentaries is "a path towards understanding what the balance between journalism, advocacy and storytelling is". Talking about "Paradise Lost", he revealed that HBO sent the two filmmakers to Arkansas supposedly to cover the story of three guilty teenagers accused of the murders and that after speaking with the three guys, he felt they were innocent and "that is when the advocacy impulse started kicking in". He said that is when he realized that journalism and advocacy weren't mutually exclusive. He later added that it was important to trust the audience and that the best way to be an advocate is to let the audience come to its own conclusion. To emphasize that, he pointed out that clearly 20% of the audience thought the three teenagers were guilty after the first film.
Bruce stated that he and Joe first met in 1986 with the Maysles brothers and that he started working with them in 1977 editing and learning. He and Joe discovered that they worked well together ("we shined") in the editing room and had similar points of view about filmmaking.
Joe said they both wanted to make documentaries that have the same dramatic qualities of fiction and to bring that same narrative structure, for example, the rising and falling action. Adding music to "Brother's Keeper" and selectively withholding information until the right dramatic moment went against the norm for documentary purists at that time; which had Bruce adding that "we weren't that well liked at the beginning" and "we were also a little smug at the time".
Joe revealed that the two gambled everything making "Brother's Keeper" and that they took a leap of faith making a cinema verite film because "you are gambling your time and money with no idea where the story is going". The Maysles taught them that if there is a situation worth covering "you have to just jump out a window and hope there is a mattress on the other side to catch you".
Bruce cited the Maysles, Scorsese ("incredible vivid storytelling"), John Huston, Charlotte Zwerin (Maysles' editor) and Errol Morris as his sources of inspiration. Joe said that Frederick Wiseman's "Titicut Follies" (his 1967 film about the patient-innates of Brigewater State Hospital for the criminally insane) in the way it captures reality, is the film that made him want to be a documentarian, and that he was a huge Cassavetes fan. He pointed out that Cassavetes was "pushing feature films into a more realistic zone" and that he and Bruce were trying to make the documentary into a mirror image-"trying to push non-fiction film from the storytelling viewpoint into the feature arena".
Joe added that in the beginning it was not OK to call these films "documentaries". It was a "non-fiction film". When Hermandez inquired as to when it became fashionable to use the D-word, he jokingly replied that it was when "Hoop Dreams" (1994) made six million.
Posing on the Red Carpet prior to the symposium are (l to r)
Filmmaker Joe Berlinger, Jason Baldwin (subject of the
"Paradise Lost" series abou the West Memphis 3), filmmaker
Bruce Sinofsky and AFI Silver Theater Director Ray Barry
Panel discussion with (l to r) filmmakers Joe Berlinger and Bruce Sinofsky
with moderator Eugene Hernandez of the Film Society of Lincoln Center
Joe Berlinger and Bruce Sinofsky speaking after
receiving their Guggenheim Awards
"Beware of Mr. Baker" *** 1/2-92 minutes)
Washington-based director Jay Bulger lived for three months with the legendary rock/jazz drummer Ginger Baker in Baker's home in South Africa to document one of the more unusual characters you'll ever experience on screen. Known primarily for his days as the drummer for such rock groups as Cream and Blind Faith, you'll be surprised to learn that Baker's passions include polo (investing most of his money transporting dozens of horses across continents) and jazz - while, surprisingly, holding a general disdain for rock and roll. Considered to be one of the greatest jazz drummers on the planet is lost in his documented tirades that include a closing shot of him breaking the nose of the director as he was preparing to leave his for the U.S. Terrifically edited, animation is also effectively used by the director to tell Ginger's life story. Taking over 5 years to complete, Bulger has included a glorious rock soundtrack and uncovered remarkable archival footage, as well as provided riveting interviews with many of the talented musicians who have played with this ego-driven talent - who has remarkably survived drugs and 4 marriages over his 75 years. The title refers to the warning sign heading the driveway of Baker's home. A talent extraordinaire whose bite is definitely worse than his bark. The entertaining film is due to be released nationally in the fall.
Ginger Baker practicing in his African home




Director Jay Bulger
------------------------------------------------------------------------
Monday June 18, 2012-Opening Night-"Don't Stop Believin': Everyman's Journey" (*** 1/2-113 minutes)
Baltimore based director, Ramona S. Diaz (2003's critically acclaimed documentary "Imelda") happened upon a story that, if it wasn't true, would be difficult to believe. Picture this: You're a homeless dude in a 3rd world country, earning pennies as the breadwinner for your family by singing in a local band doing covers of iconic groups, including Journey. You're friend (and biggest fan), spends entire nights in an Internet cafe uploading your performances on YouTube. Out of nowhere, you get a call from Neal Shoen, one of the mainstays of the hugely popular 80's Journey who are on a quest to fill the shoes of departed superstar singer Steve Perry. The next thing you know you are on a plane to L.A. to audition as his replacement. Then after "getting the gig", you find yourself onstage singing to 18,000 Chilean fans in your first concert. This unlikely scenario is professionally documented by Diaz as she follows the incredible life-changing events of Filipino native Arnel Pineda in intimate detail. The concert footage is topnotch MTV quality; however, the film maker also includes the band's history as well as a fascinating back story of Pineda who earlier in his life was consumed with drug and alcohol addiction while always dreaming of making it in the big time. Superb editing keeps it all moving nicely, despite its nearly two hour running time. And that is the only knock. The film will be helped immensely with a 15-20 cut - which is likely by the time it hits the theaters sometime next year (a U.S. distribution deal is currently pending). "Don' Stop Believin': Everyman's Journey" moves on to screen at the Newport R.I. Film Festival on July 12 and Michael Moore's Film Festival in Traverse City, MI later this summer before it is shown internationally.
Following the excellent Q and A moderated by The Washington Post pop music critic Chris Richards interviewing Ramona Diaz and Executive Producers Capella Fahoomes and Josh Green, was a lively opening night after party held across the street at the recently opened The Fillmore with music provided by The Regan Years cover band.
(l to r) Executive Producer Josh Green, director Ramona S. Diaz,
Journey guitarist Neal Schoen' significant other, "Real Housewives of DC"
star Michaele Salahi, and Executive Producer Capella Fahoomes
SILVERDOCS Festival Director Skye Sitney introduces the Opening Night
film
and director Ramona S. Diaz
(l to r) Executive Producers Josh Green and Capella Fahoomes, Director
Ramona S. Diaz, and Moderator Washington Post pop critic Chris Richards